In today's political climate, it is more important than ever to have a clear picture of the environmental data and social variables surrounding your asset. At Pivvot, we aim to deliver the holistic view of the environment surrounding a pipeline, power corridor, or railroad to support you in avoiding social and political risks.
We do that by giving you the power to access environmental data and socio-economic variables in minutes versus weeks. With hundreds of datasets at your fingertips, you can easily visualize critical variables and analyze how they relate to each other and your assets (without the support of a specialist). Then, you can act on the insights you have gained to make better business decisions.
To support asset operators in making better decisions, we've identified the top five data sources you'll need whether you support new projects, emergency response, environmental, PR or legal. With the information in our infographic below, you can make better decisions, faster and reduce social and political risk.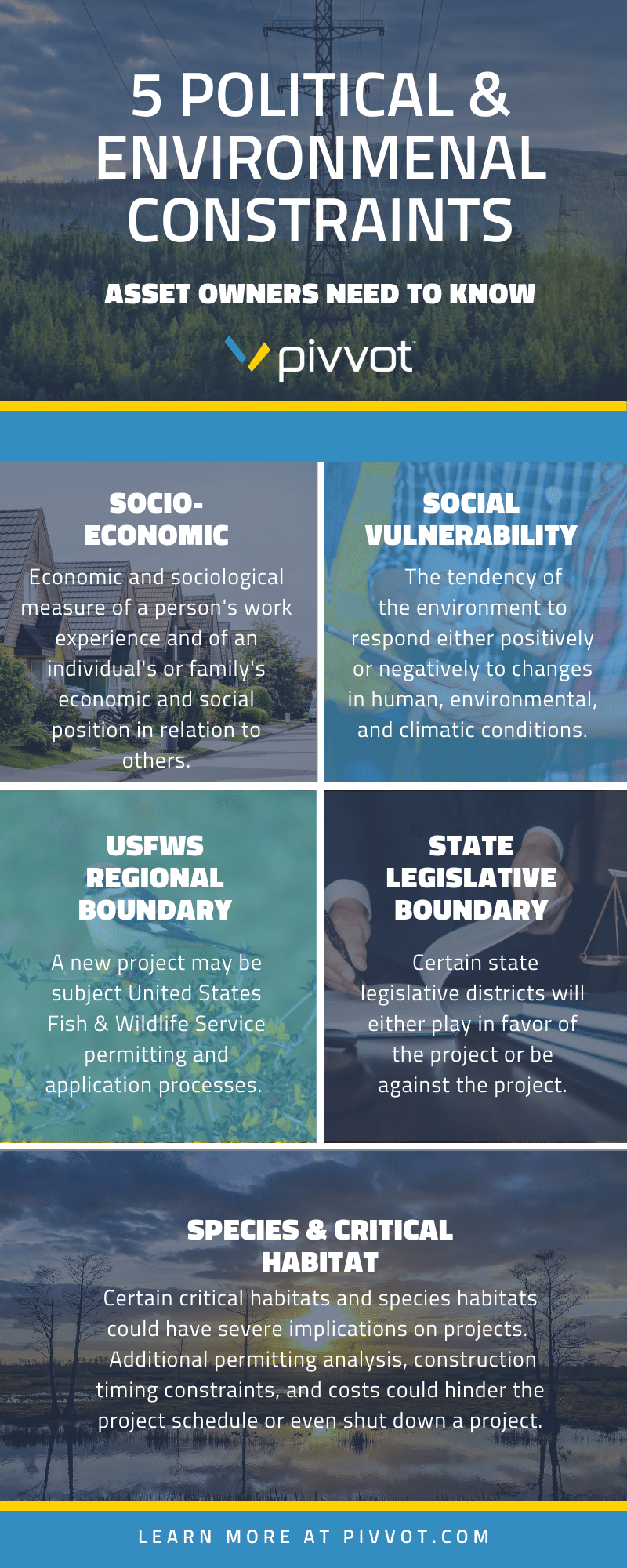 Socio-Economic Data
Economic and sociological data is the combined total measure of a person's work experience and their position in relation to others. Socio-economic data can identify and mitigate risk within areas that could delay project execution.
Social Vulnerability Data
Social vulnerability data is the tendency of the environment to respond either positively or negatively to changing conditions. The data can be analyzed to identify potential social issues that need to be mitigated before a project is started.
USFWS Regional Boundary Data
United States Fish and Wildlife Service (USFWS) regional boundaries are areas that are under the jurisdiction of the USFWS. A new project may be subject USFWS permitting and application processes. This is particularly relevant for areas of private land that with a high density of endangered species or habitat.
State Legislative Boundary Data
State legislative districts (SLD) are areas from which members are elected to state or equivalent entity legislatures. They embody the upper (senate—SLDU) and lower (house—SLDL) chambers of the state legislatures. Certain state legislative districts will either play in favor of the project or be against the project.
Species and Critical Habitat
USFWS and other state departments provide critical and other species habitats. Delineated species habitat, sightings, and occurrences can cause project or mitigation effort delays.
Want to learn more about Pivvot's data and how to access it? Request more information today.