Developing utility-scale solar power is one of the fastest ways to reduce carbon emissions and put the United States on a path to a clean energy future – a topic on everyone's mind. With a nationwide push to move towards cleaner energy solutions, developers are racing to find, acquire and build new utility-scale solar sites.
While solar generation isn't a new trend, it continues to grow year-over-year. In 2021, developers expect the addition of utility-scale solar capacity to set a new record by adding 15.4 GW of capacity to the grid - surpassing last year's nearly 12 GW increase.
With utilities seeking to move to clean energy and increasing capacity needs, developers across the country are racing to find sites near the grid. This leaves a lot of developers competing for the same land and asking – how can we beat the competition?
At Pivvot, we're here to help you pull away from the pack to find, acquire, develop and sell utility-scale solar projects faster than your competitors.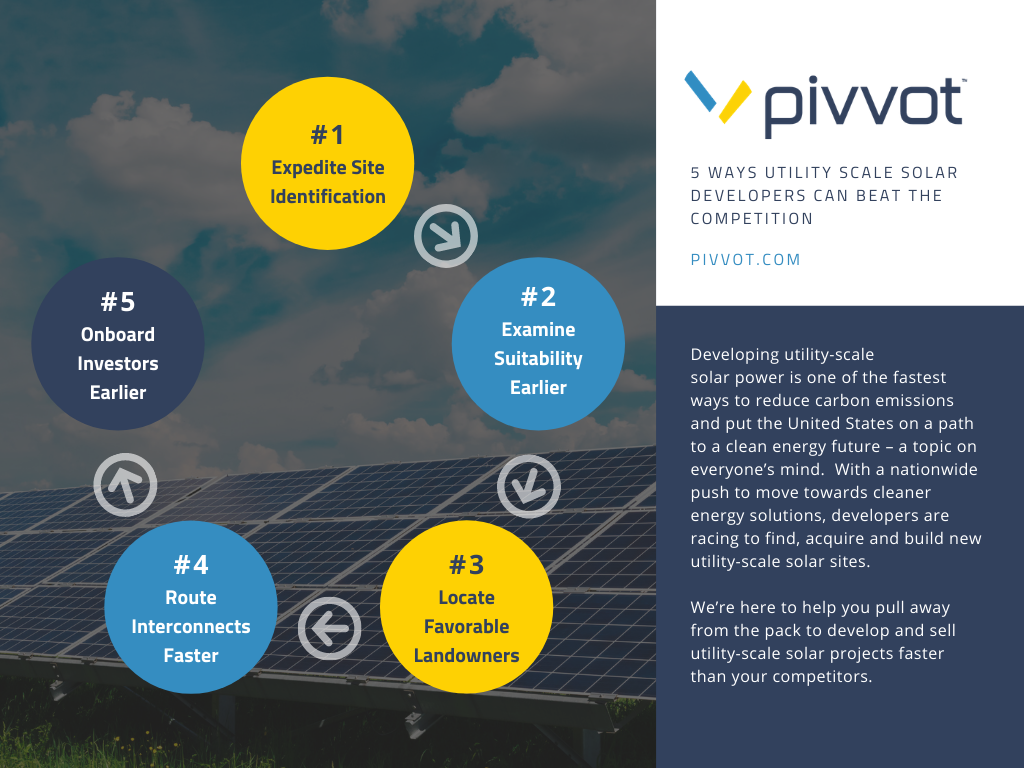 1. Expedite Site Identification
When looking for land to develop for a utility-scale solar project, developers could spend days or even weeks contacting county and utility offices, mining through data and integrating all the information together.
Pivvot's location intelligence platform eliminates the manual data collection that costs you days and weeks. We allow site selectors to enter criteria such as acreage and proximity to the grid in a simple map. It immediately returns sites that meet your criteria and doesn't require an analyst's interpretation.
2. Examine Suitability Earlier in the Process
Once sites have been identified, questions around suitability immediately start.
Where are flood zones?
Are critical species living here?
Where will we have permitting issues?
These questions are typically answered by conducting environmental impact studies and sending crews into the field. But Pivvot saves everyone time and reduces costly field studies to eliminate sites that have potential risks earlier in the process.
With Pivvot, you can add constraints to your filters and buffer other land obstacles. In a matter of minutes, you can identify sites that not only meet your project criteria but are also suitable for constructing utility-scale solar.
3. Locate Favorable Landowners and Adjacent Properties
We all know that identifying suitable sites is only half the battle. Once you've narrowed down your search, your team has to start negotiations with landowners – which can take months. In some cases, it could stop your project before it even starts.
At Pivvot, we've tackled this problem two ways.
First, our data is enhanced to identify and group together parcels by landowner. We prioritize sites that are adjacent to or nearby the site you're evaluating. We've done that to expedite the process when you've found a favorable landowner to ease identifying site alternatives, evaluating access roads (that won't result in a trespassing fine), and finding possible locations for a work site.
The second way we've attacked the landowner problem, is we've integrated with RealX property rights exchange. Once you've found a desirable site, you can easily see if it's already marked for sale or lease as well as get landowner information.
4. Route Interconnects in Record Time
Once you've identified the sites, analyzed suitability, and know the landowners you're dealing with, you need to determine where to connect to the grid. Many developers will rely on a third-party to conduct routing scenarios, but Pivvot provides interconnect routing in our easy-to-use solution to save you time and money.
Pivvot Routing allows you to identify multiple interconnect options, select criteria to avoid (i.e. flood zones), include (i.e. favorable landowners), or exclude (i.e. critical species habitats) from your routing scenarios. In minutes, you can produce multiple, viable routes to connect your solar generation site to the grid.
5. Onboard Investors Earlier with Collaboration Tools
The last, but most important advantage we provide to developers is collaboration with investors. You can stand out from the competition by looping in investors earlier in the process. Whether you're seeking capital to fund development, or selling a completed asset to a power company, Pivvot allows you to securely share project details with stakeholders.
In a single solution, technical and non-technical stakeholders can view project status, project risks, and opportunities. You can get buy-in at every phase of development as well as provide data and site details to buyers conducting due diligence.
Pivvot Siting is releasing in early February – and we are booking demos now. To learn more about our siting tool and to beat out your competition, contact us to schedule a demo.