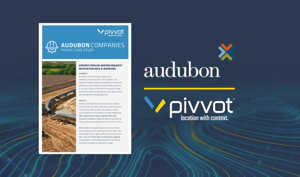 To help organizations reduce project costs, enhance efficiencies, and improve project delivery, Pivvot delivers location data and analysis solutions that streamline siting, suitability and permitting processes. Recently, Audubon Companies, a global provider of EPC, EPCM, and fabrication services, implemented the Pivvot platform to leverage its cloud-based data and routing analyses to deliver greater value to clients.
"Pivvot's technology and its comprehensive approach to big data analytics reduces our design time and enhances project delivery, allowing us to provide transformational value and quality to our customers," says Max Hengst, Vice President Pipeline Engineering, Audubon.
In this blog, we'll review three case studies of how Audubon leveraged the Pivvot platform to deliver greater value to its clients.
Case Study 1: Expedite Pipeline Routing Projects with Better Data & Reporting
An electric and natural gas company was selecting a new location for a short pipeline. The operator contacted Audubon Companies to conduct the preliminary route analysis and had multiple variations to consider. Audubon used Pivvot to access and analyze the data necessary to evaluate route options rather than pulling data from individual agencies and manually processing it.
Audubon was able to analyze infrastructure crossings, wetlands, floodplains, and property parcels in record time. Audubon estimated that the data collection without Pivvot would have taken up to three weeks, and they would not have been able to collect the quantity of data sources that Pivvot provides. Pivvot was able to generate the reports against 550+ data sources in a matter of hours and deliver the results in a format that easily integrated into the client's system.
"Pivvot enables us to deliver more comprehensive assessments of our clients' oil and gas projects, saving them significant time and resources. Pivvot's technology produces detailed reports allowing us to conduct insightful analysis and better cost estimations early in the process," says Clarence Lamb, Project Director at Audubon.
Pivvot uses Amazon Elastic Compute Cloud (Amazon EC2) which provides real-time access to the land, environmental, and socio-economic data it has curated. With on-demand and regularly updated data, Audubon can quickly assess a project area and deliver a high-quality analysis to clients much earlier in the process.
Additionally, with multiple route options and criteria to consider, many iterations of the route were run over time. Data downloaded from an agency will quickly become out of date, while the Pivvot data is continuously updated in the AWS cloud. This allowed for swift updates based on new data as the project variables and objectives change. Download the full case study.
Case Study 2: Save Millions on Construction Costs
A crude oil transmission pipeline operator shared a new 24-mile pipeline project with Audubon Companies after they had already received Final Investment Decision. The company identified the location for the proposed line in southeast New Mexico that was surrounded by bedrock. The operator budgeted for rock sawing to cut through the bedrock as the location didn't allow for blasting. Audubon assessed the proposed line in the Pivvot platform and, thanks to the geoprocessing power of Pivvot architecture, they were able to visualize the surrounding area and analyze detailed crossing reports in minutes.
In this instance, the operator had dramatically overestimated the amount of rock sawing needed. Had they come to Audubon earlier in the planning or cost estimation phases, they could have saved millions of dollars that are now committed and trapped in this project. Download the full case study.
Case Study 3: Provide Better Materials Lists & Cost Estimates
On a current project for new gas pipeline, Audubon ran Pivvot's crossing reports to include roads, rivers, wetlands, and more. Using the lengths of each crossing, a derivative of the Pivvot geospatial analysis, Audubon was able to determine the level of wall thickness that would be needed along the pipeline route, resulting in a building material lists. With the materials list available much earlier in the project, Audubon provided a more accurate cost estimate.
To learn more about how Audubon is leveraging Pivvot, please watch our webinar!