Understand Your Exposure and Reduce Risk with Quality, Relevant, Comprehensive Data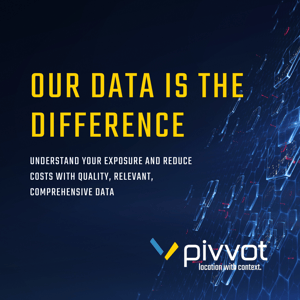 Here at Pivvot, we support the energy sector by giving you the power to access environmental, socio-economic, and other location data in near real-time. With hundreds of datasets at your fingertips, you can easily visualize critical variables and analyze how they relate to each other and your assets without the support of a specialist. You can then act on the insights you've gained to make better business decisions.
The ability for organizations to access, analyze and act on information from our solution relies on the quality controls, procurement process, and fit for purpose standards that Pivvot has put in place.
In the blog below, we have summarized our process and standards by providing an excerpt from our paper, Our Data is the Difference.
Ensuring Fit for Purpose
Pivvot is constantly updating our existing data and keeping it current as well as looking to expand our number of data layers that support energy and transportation business needs. One of our top priorities is ensuring that our data is the highest quality. As such, if there are better data sets representing information that we currently store, we will strive to obtain them.
One of the metrics employed by Pivvot to ensure data quality and completeness is that all of our data meets or exceeds the metadata standards for geographic data as defined by ISO 19115. Each record of our data, regardless of what table it resides in, or what source it was obtained from, has a unique metadata identifier that describes the following for that row:
Shape – the geometry of the data
Feature Type – a Pivvot internal classification of what kind of data is represented
Process – any transformation, projections or classifications performed on the data
Policy – the rules governing licensing, display and distribution of the data
Source – the agency or source of the data
Permissions – which applications can perform what functions on the data (extract, map display, inclusion in web-reports and downloaded reports)
Exceptions – Notification of spatial errors or incongruities, missing data from the source (was previously published but is not present in subsequent publications), duplicates in source data
Three Iterations of Quality Control
Internally within Pivvot, our data goes through three iterations of quality control and assurance. Tests are performed to determine if the veracity of the geometry (location) and structure of the geometry (overlaps, self-intersects, polygon complexity, number of vertices) are fit for purpose for Pivvot applications and for use by our clients.
Data Checking & Concurrency
Lastly, Pivvot tracks four dates for every data record in our repository. These dates allow Pivvot to maintain and present to our clients the most up-to-date data that is available to us. These dates are:
Date Surveyed – date that the data was collected, this is typically earlier than it was published but provides a measure of the 'concurrency' or 'staleness' of the data
Date Published – date that the data was made available to the public or to account holders (often corresponds with email notification to account holders)
Last Downloaded – date that Pivvot last downloaded the data
Last Check – date that Pivvot last checked for new data
The Power of Data
The power of the Pivvot data becomes magnified when our clients are able to upload their location data for their assets (their sites, their pipelines, their railroads, and electric transmission lines) and intertwine it with the Pivvot database.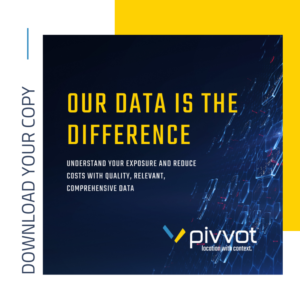 While users across an organization and at any level of technical ability can access relevant and comprehensive information from any device, work can continue, decisions can be made, and efficiencies can be realized. With a better understanding of the area surrounding an asset, organizations can make more informed decisions to reduce their exposure and risks in the case of an incident or catastrophic event.
To learn more about Pivvot's data and our approach to data management, please download Our Data is the Difference.