Pivvot Release Route to Streamline Preliminary Energy Transmission Routing Analysis
Pivvot, a leading provider of infrastructure asset management solutions, is pleased to release the latest module in its platform, Route. Route analyzes engineering, environmental and socio-economic data to generate least-cost, minimal impact routes for pipelines and electric transmission corridors.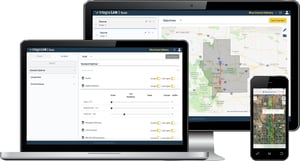 Purpose-built by engineers, Route provides access to 550+ data sources which significantly reduces the amount of time typically required to gather and analyze data in a proposed project's area of interest.
It guides the user through a step-by-step workflow to set project objectives, add exclusion areas, and set tolerances to weigh land, environmental and demographic criteria. It then generates multiple project routes to demonstrate various location scenarios in even the most complex circumstances.
Route provides crossing and impact analysis reports by overlaying routes with critical risk factors and opportunities around the project corridor to defend the selected path. Reports include regulatory considerations, landownership, right-of-way acquisition, structures, wetlands, bodies of water, roads, railroads and more. Users can export reports, publish data to a site view, or export a geodatabase for use in your GIS or system of record.
Additionally, Route is hosted in the cloud offering security, scalability and geoprocessing speed that far out-paces on-premise solutions. With the most comprehensive information available delivered via the cloud, Route delivers optimal pipeline paths within hours, rather than weeks.
To learn more about Route, request a demo!