Kansas City, MO. (March 2, 2021) — Pivvot, a leading provider of location data and analytic solutions in the energy industry, is pleased to release the latest addition to its location intelligence platform, Siting. As the energy industry shifts its focus to distributed generation and storage initiatives, developers and engineering firms are racing to identify, acquire and develop land to meet the increasing demand for renewable energy.
"Increased energy demand and the rapid growth of distributed generation is changing the energy market significantly," says Evan Conway, CEO of Pivvot. "Our clients need a modern set of tools to evaluate projects quickly, make critical decisions faster, and act on opportunities sooner."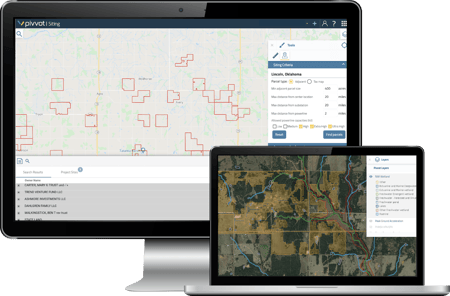 Traditional approaches to energy site selection include expensive software, labor-intensive data collection processes, and analysis conducted by technical experts. Pivvot provides renewable developers, utilities and engineering firms with a faster and more efficient way to identify and evaluate sites, reducing project schedules by up to 50%.
Pivvot delivers hundreds of datasets in an accessible map so users of any technical ability can visualize constraints, calculate usable area, and assess suitability. Decision makers can download comprehensive reports to evaluate the environmental, geotechnical, socio-economic, and topographic characteristics if a site in seconds. "In today's race to acquire land, our clients need immediate access to high quality and relevant information," says Stacey McBride, Director of Marketing at Pivvot.
"Pivvot is designed for speed and accessibility. We bypass the expensive and labor-intensive traditional approaches to deliver high-quality geospatial insights directly to decision makers," says McBride. With Pivvot, investment decisions can be made in minutes, rather than days or weeks, as suitable sites are identified immediately.
Siting is available as part of the Pivvot platform annual subscription. To learn more, watch our Pivvot Siting webinar on-demand or request a private demonstration.
##
About Pivvot - Pivvot provides location data and analytic software-as-a-service solutions. We add situational context to asset information—empowering organizations in energy and transportation to navigate regulatory compliance and reduce operational risk. Learn more at pivvot.com.